Upto 80% Discount on Learnnext CDs
Advertisements
We are offering upto 80% discount on Leannext CDs for classes 6 to 10 at elpiscart.com in August 2012. This offer is valid till August 31, 2012. Learnnext Complete Course CDs for class 6 to 10 are now available at http://learnnext.com with discount upto 80%. This offer is valid upto 31 August, 2012 only. The users can purchase any one class (maths and science combo pack) for Rs.1424/- or All classes 6 to 10 (Maths and science combo pack) for Rs.1899/- .
The payment options are :
1. Online payment via Credit card or Debit card OR
2. Payment by Cheque or Demand Draft OR
3. Cash on Delivery anywhere in India.
These learnnext CDs are available for CBSE, ICSE and 18 state boards as per the latest syllabus.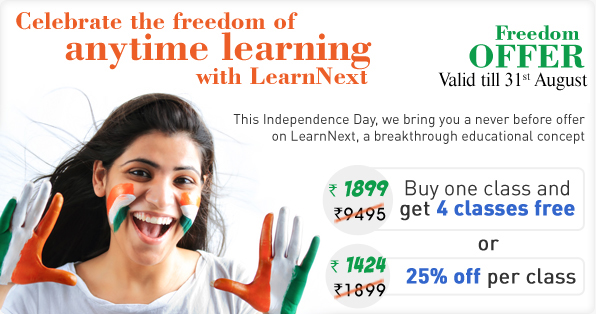 LearnNext Features & Benefits
| | |
| --- | --- |
| | Effective Learning : LearnNext builds up your retentive capabilities through its skillful and extensively researched interactive courses that make learning fun and easy, helping you remember courses months after you learnt them. |
| | Set Your Own Pace :LearnNext gives you flexibility. You can take the CD with you wherever you go so that you never miss another lesson. |
| | No Internet Needed : LearnNext's multimedia packages let you study on your own, with no need for the Internet. Save on telephone and Internet costs. |
| | Plan Your Study: The Calendar Feature ensures that you cover every topic, and also have sufficient time for revision and self-assessment. |
| | Track Your Performance: LearnNext's Reports feature keeps you on track with course coverage reports and test results. You can even compare your Reports with other students across India for greater motivation. |
For further information regarding Upto 80% Discount on Learnnext CDs, connect with us on facebook, google+ and twitter.